More overlaps between May and Corbyn on foreign policy than rhetoric suggests?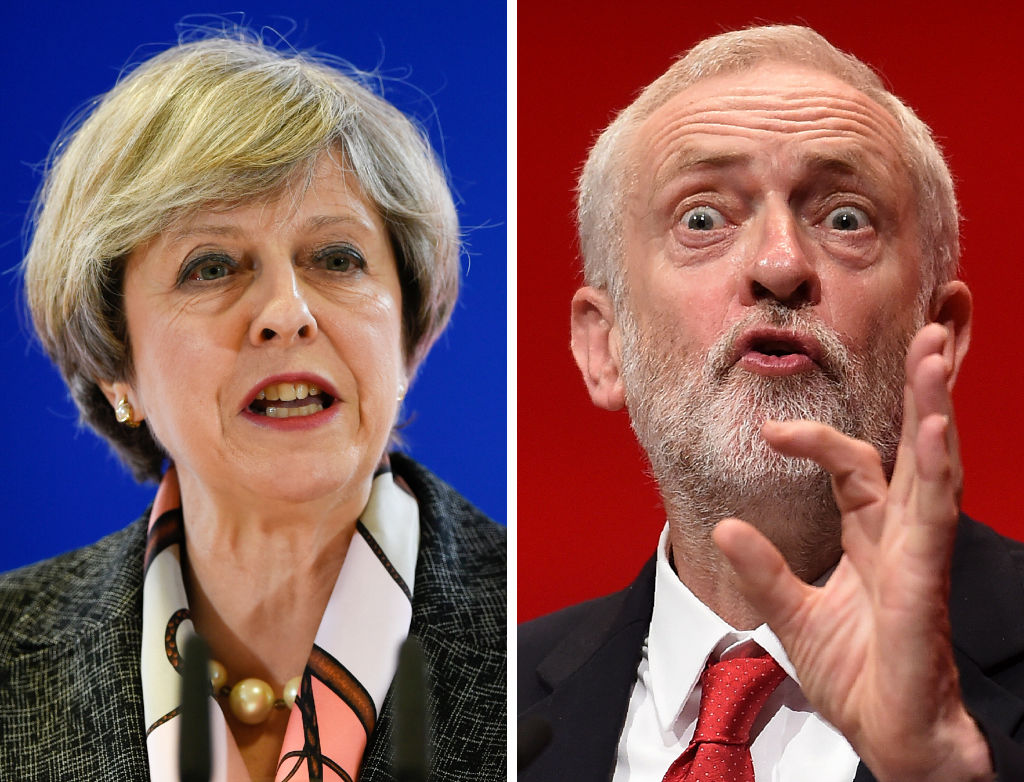 Most of the G7 members walked together through the security sealed street of Taormina after their family photo. President Trump walked down the hill alone save for his extensive security detail. There was a tiny smattering of applause as the G6 strolled down the hill, perhaps a few residents allowed to stay amidst swarms of many Italian security people in a wide array of uniforms randomly scattered around the streets. It's fair to say it wasn't entirely clear what security roles they were all performing.
After his short walk apart from the other leaders, President Trump repaired to a golf cart on his own for the remaining downhill stretch of this very short distance.
His receptions on his world tour have been decreasingly adulatory. He started by being feted in Saudi Arabia. Then the whole Israeli Cabinet came to meet him on his next stop. In the Vatican, the Pope gave him a work he'd written on climate change and looked doggedly serious in the photos. In Brussels, we now know the US President started off his day yesterday berating the Germans as "bad, very bad."
And that was a warm up for his public dressing down for the NATO members, delivered later on Thursday, as 27 world leaders were forced to stand with fixed expressions listening to him scold them for leeching off US taxpayers.
For his grand finale before returning to Washington, President Trump will take part in discussions on Terrorism, Syria, North Korea and the global economy. That last heading will be a moment for some leaders to try to steer President Trump off his avowed protectionist trade policies. US officials have said there will also be tough discussion about global warming, something President Trump has described as a "hoax." The US team has said President Trump will not decide whether to commit to the Paris Accords cutting carbon emissions which President Obama signed up to until he's back in the US. But leaders today may get a strong clue as to which way the President is leaning on this.
Mrs May will push the other leaders to combine forces to bear down on internet giants who allow easy access to propaganda and jihadist advice pages. It's an agenda she has made her own before.
Italy chose Sicily for the location for this summit, as the Italian Prime Minister told leaders as they started their lunch talks, because it is "a bridge between Europe and Africa." Italy has already received a record 50,000 people travelling from Africa in the first few months of this year, many of them landing in Sicily. It is estimated to have received half a million since 2014.
There will be no landings here while the summit is taking place. Navy and other vessels have been told to take any people on boats from Africa to the mainland. Theresa May's early departure this evening means she'll miss the session with African leaders tomorrow on how the G7 can help economic progress in African countries.
At a press conference before she heads home, Theresa May will be asked what she makes of the narrowing of her lead suggested by The Times' YouGov poll today.
Mrs May will hope it will energise her support base and sharpen what had seemed a blunt campaign message about the possibility of a Labour government. Here are a couple of possible explanations for what is going on: from Vox and Kantar.
I've yet to hear a Labour MP reporting back the surge detected in the opinion polls, but clearly Theresa May stirred a reaction with her care policy and her own polling reported it as sufficiently worrying to risk a damaging u-turn on Monday which runs counter to her whole campaign narrative.
Whatever Mrs May says or doesn't say about Mr Corbyn's speech today linking British military involvements abroad and terrorism at home, the the truth is that Mrs May watched the Libyan military involvement led by David Cameron and President Sarkozy "with her head in her hands" according to one who knows her well.
Sources close to Mrs May have long said she thought David Cameron had a buccaneering approach to military involvement and was uncomfortable with some of his judgement calls in foreign affairs. Mrs May wouldn't sign up to Jeremy Corbyn's speech today, even in private. But there are slightly more overlaps than the campaign rhetoric would suggest.