This is the story so far:
23 October: Life in a tower block after Grenfell
For those people who call a tower block home, the lift that rides up and down their building is also an important communal space. It's the place where members of a vertical community cross paths with neighbours and bump into friends. We installed ourselves inside an elevator in one block near Grenfell Tower to find out how one high-rise community has been affected by the fire.
6 October: Grenfell: the young girl's dreams that were never fulfilled
Four months after the Grenfell Tower disaster, all five members of one family – both parents and three children – were laid to rest today following funeral prayers at East London Mosque. Among them, an amazing 12-year-old girl named Firdaws Hashim, who weeks earlier in the year had won a celebrated schools debating competition. Bill Gates, who handed her the award, sent his own tribute , calling her a young girl "who had enormous potential and wanted to make the world better".
26th September: Grenfell relative lodges complaint over police helicopter
A man who lost six members of his family in the Grenfell Tower fire says the police helicopter deployed that night created a "cruel and tortuous hope" for his family that led him to believe they could be rescued from the air. Nabil Choucair has lodged a formal complaint after listening to harrowing 999 calls made by his family that night.  He says they were left  with the impression that they could be rescued by helicopter. This exclusive report contains images you may find distressing.
22nd September: Only five Grenfell families in permanent homes 100 days after fire
A 16-year-old has become the latest victim of the Grenfell Tower fire to be named. Nur Huda el-Wahabi died alongside her parents and two brothers, who all lived on the west London block's 21st floor.Meanwhile, the leader of Kensington and Chelsea Council has pledged that Grenfell residents will be consulted before any re-housing decisions are made. Only five families from the tower and Grenfell Walk have moved into permanent accommodation since the disaster exactly 100 days ago.
13th September: The only survivors from the top floor tell their story
Only two people made it out alive from the 23rd floor – the very top of the Grenfell tower – on June 14th. This is their story.
4th September: Cornwall throws open its arms to Grenfell survivors
The contrast could hardly be starker. From the charred shell of Grenfell Tower to one of Britain's most beautiful places. Families affected by the fire – the bereaved, those who escaped, and some firefighters who worked on the night of the fire – have been enjoying a holiday in Cornwall. It was organised by a tiny new charity called Cornwall Hugs Grenfell that was set up just weeks ago by Cornish resident Esme Page.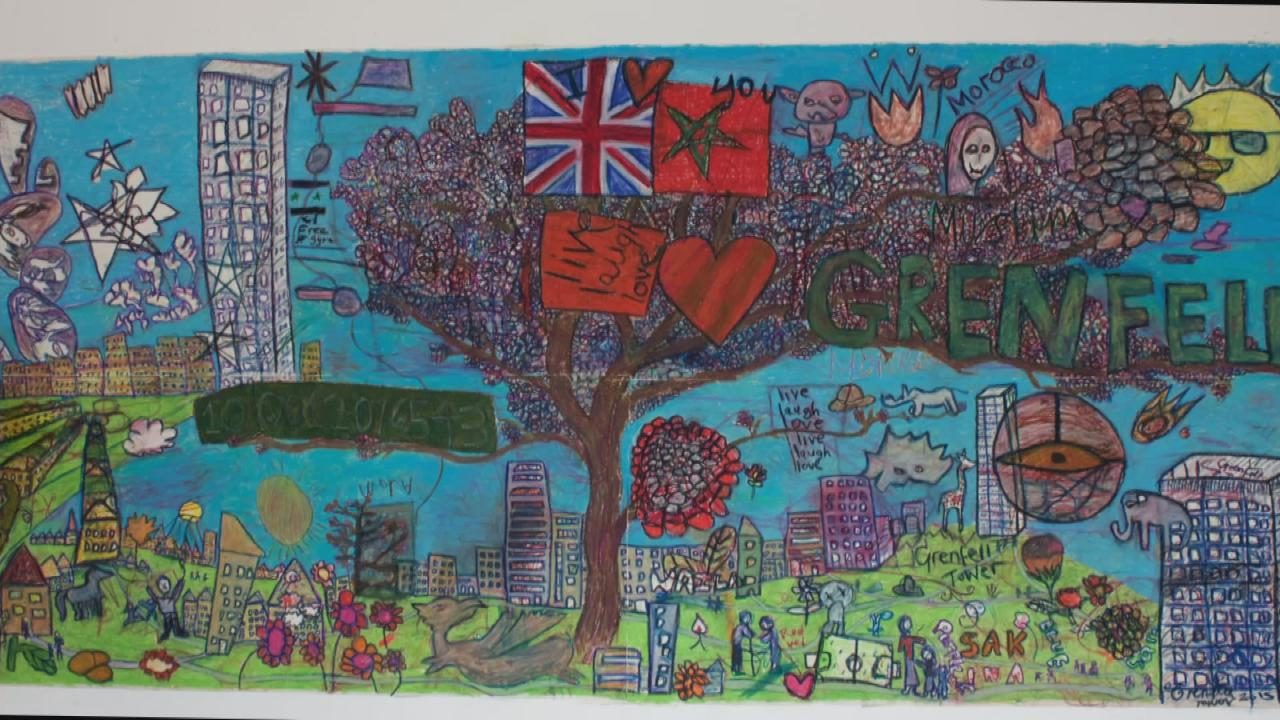 8th August: On the ground at Grenfell
For the relatives of those who died, for those who knew them, for those who lived in Grenfell's shadow – life has changed for ever. Like the young people who'd been working on a documentary – with film-maker Nendie Pinto-Duschinsky- about the closure of a youth club in North Kensington when the fire broke out. They turned their attention to the people caught up in the tragedy – and to those who volunteered in the days afterwards. This is an excerpt of their film, "On the ground at Grenfell."
8th August: Grenfell volunteer: 'People came as strangers and left as friends'
Filmmaker Adrienne McKenzie and Grenfell volunteers Swarzy Macaly and Reece Yerboah discuss the continuing impacts of the Grenfell fire.
28th July: Grenfell families struggling to rebuild their lives
For the families who escaped the tower, there is still a huge amount of emotional turmoil: many are still struggling to get the right support, others are yearning to be allowed back in to see the damage for themselves. And now that police say they have enough evidence for corporate manslaughter charges, will this bring this any kind of closure? Simon Israel has been talking to one family trying to rebuild their lines are losing everything.
25th July: Grenfell: TMO spent millions on management fees rather than refurbishment
The Grenfell fire has brought into focus the bodies running much of Britain's social housing – tenant management organisations, or TMOs. Kensington and Chelsea TMO, which ran Grenfell Tower and was responsible for its refurbishment, is the biggest in Britain, with nearly 10,000 properties and thousands of tenants. TMOs, especially Kensington and Chelsea, have been criticised for outsourcing responsibility for housing from councils, for obscuring and complicating financial processes, and most of all by tenants, for not serving their interests. We discovered millions of pounds a year are absorbed in management fees and interest charges. (Note: Kensington and Chelsea Council stopped subsidising Opera Holland Park in 2015 when it became an independent charity.)
20th July: Grenfell cladding tests conflict of interest?
It's one of the biggest manufacturers of insulation and cladding in Britain – and its products were used on Grenfell Tower. This programme can reveal that a company in the Kingspan group is now playing a key role in the independent government tests ordered in the wake of the fire. Kingspan says it's just trying to help – but it has all raised concerns about a conflict of interest.
20th July: Brother of Grenfell victim: 'stay put' fire policy should have been abandoned earlier
The brother of the first named victim of the Grenfell Tower fire says the fire brigade should have abandoned their "stay put" policy much earlier. Omar Al Haj-Ali and his brother Mohammed – both refugees from Syria – were told to stay put three times before deciding to flee, but only Omar made it out alive.
19th July: Tomassina Hessel: 'Grenfell residents have endured years of contempt'
North Kensington resident, Tomassina Hessel, and Justice for Grenfell campaigner, Moira Samuels, discuss Kensington and Chelsea Council's response to the tower block fire.
Eighty people burnt to death in their own homes. A month on, the bereaved and survivors are desperate for answers amid a litany of public failings. Now the final insult: empathy for them is running out. Jackie Long write in the Observer,
14th July: Grenfell refurbishment was stalled due to cost
New documents dating back to 2012 show that architects originally wanted to use more expensive, fire-resistant cladding around the building.
13th July: Grenfell survivor: 'We went from trauma to depression, and now to fear'
We speak to Sajad Jamalvatan, a student who lived on the third floor of the block who was at the public meeting on 13 July.
13th July: Grenfell new revelations – did window renovations contribute to spread of fire?
This week Channel 4 News exclusively revealed details of combustible materials that were used in the cladding at Grenfell Tower when it was renovated last year. Now a new question: Did the refurbishment create air spaces between the new windows and the building's original walls that increased the fire's ability to spread rapidly?
12th July: Remembering the Grenfell victims
A vigil will be held tonight to mark a month since flames tore through the Grenfell Tower. Today the coroner for Westminster revealed that 34 of the people who died in the disaster have been identified. But for many relatives, there is still an agonising search for answers. Jackie Long has been speaking to one man about the long wait for information about his missing uncle.
11th July: Dany Cotton: only a 'miracle' could have saved Grenfell
One woman who was there at the Grenfell Tower fire from the early hours was London Fire Brigade's new Commissioner Dany Cotton. In an exclusive interview a month on from the disaster, Commissioner Cotton tells Jackie Long she had "sufficient resources" and that the brigade's "stay put policy" is usually the best one.
10th July: Grenfell Tower fire: third key cladding product revealed
The Grenfell Tower fire triggered the largest review of building safety in the UK since the Second World War, and in particular the cladding systems put on many of the country's tower blocks. Two major insulation components have been identified as part of the investigation into how the fire spread. On July 10 this programme revealed that a third key product was used in Grenfell's cladding system, never revealed to the public before. And so far it hasn't been examined in other buildings, raising serious questions about the fire safety investigations carried out since the blaze. Read the full statement from Kingspan here.
5th July: Joe Delaney: Kensington Council 'a flagship like the Titanic'
Conservative MP Kevin Hollinrake, who used to sit on the communities and local government select committee, Joe Delaney, from the Grenfell Action Group, and shadow housing minister Melanie Onn discuss the Grenfell disaster.
4th July: Sajid Javid on Grenfell: 'Something went massively wrong'
Communities Secretary Sajid Javid says Grenfell would have overwhelmed any council, but "the reaction on the ground was lacking" in North Kensington. He says a judge is needed to head the inquiry into the disaster because he can compel people to come forward, and accuses Labour leader Jeremy Corbyn of treating the issue like a "political football".
28th June: High-rise buildings fail fire safety tests
Theresa May has said that cladding from 120 high-rise buildings across England has failed fire safety tests carried out in the wake of the Grenfell Tower disaster. But is the Government's investigation overlooking another potentially crucial issue – insulation? The Kingspan Group's statement to Channel 4 News is published in full here.
27th June: Grenfell evacuee: 'We're not being kept in the loop'
Amanda Fernandez and Jamal Williams, lived just beneath the tower on the Lancaster West estate, but now find themselves in temporary accommodation, discuss how they are coping.
23rd June: Grenfell fire: an 11-year-old evacuee's story
When Grenfell Tower was destroyed by fire last week, many families living in neighbouring blocks also had to evacuate their homes. Eleven-year-old Sara El Saied was amongst them. Sara was living with her family on Grenfell Walk, right opposite the tower, when the fire broke out. And from the moment the family fled that night, they faced a very uncertain future. Here is Sara's story.
22nd June: Iran to Grenfell – how a disabled migrant escaped the tower
Grenfell Tower was home to people who had come to London from all corners of the world. Mahbboubeh, from Iran, was one of them. She moved into her flat on the third floor just seven months ago and was alone when the devastating fire tore through the tower block last week. She does not remember how she managed to escape, but somehow – miraculously – despite her disability – she did. This is her story.
21st June: Grenfell: what lessons need to be learned?
We have a special programme on the aftermath of Grenfell and the lessons people feel need to be learned by the Government and local councils. In short, what national change in provision in regulation, and so much more, needs to be brought about  to resolve the bitter legacy of this terrible, man-made tragedy? We speak to survivors, local residents, MPs and councillors.
16th June: 'Heartbroken' MP David Lammy becomes tearful remembering friend who died in Grenfell Tower fire
16th June: Government warned about cladding in official report
A public inquiry has been ordered into the Grenfell fire looking at the materials used on the exterior of the building, as well as what fire safety measures were in place. Reviews of high-rise blocks around the UK are already under way.  Channel 4 News understands that the government was warned about inflammable cladding used on buildings in an official report. But the same report suggested that current guidelines were adequate.
15th June: What role did the cladding have in the fire?
One of the key questions for the public inquiry will be whether the recent refurbishment of Grenfell Tower was a factor in what happened here. Questions have been raised about the material used in the cladding that was added to the concrete walls of the block to help insulation – and about the company that supplied it. As Ed Howker reported on 15 July.
15th June: Full public inquiry ordered into Grenfell Tower disaster
Theresa May has ordered a full public inquiry into the west London tower block fire. The blackened hulk of what was once the home of more than 400 people stands witness to a monumental failure in the provision of safe public housing. This in a borough where property prices are the highest in Britain. Social Affairs Editor, Jackie Long, looked at the human cost of this fire – in terms of lost lives, homes and loved ones.
15th June: Voices of anger amongst those who live around Grenfell Tower
People in west London are all still trying to come to terms with this terrible fire that destroyed Grenfell Tower yesterday.
For those who live in this area it is harder still. Many knew people from the block or were witnesses to the awful events.
This area is know for its diversity, both ethnic and social: black, white, Asian, the rich, the poor, even the famous. Jon Snow went to hear the stories of some of them – and the anger of many here was palpable.
14th June: Did safety warnings go unheeded?
Just last year saw the completion of an £8.6 million refurbishment of Grenfell Tower. The work involved the installation of exterior cladding around the building and the provision of new windows. But could that very refurbishment have played a role in increasing the fire risk at the block? On July 14 the Government said that checks would be carried out on blocks undergoing similar refurbishments.